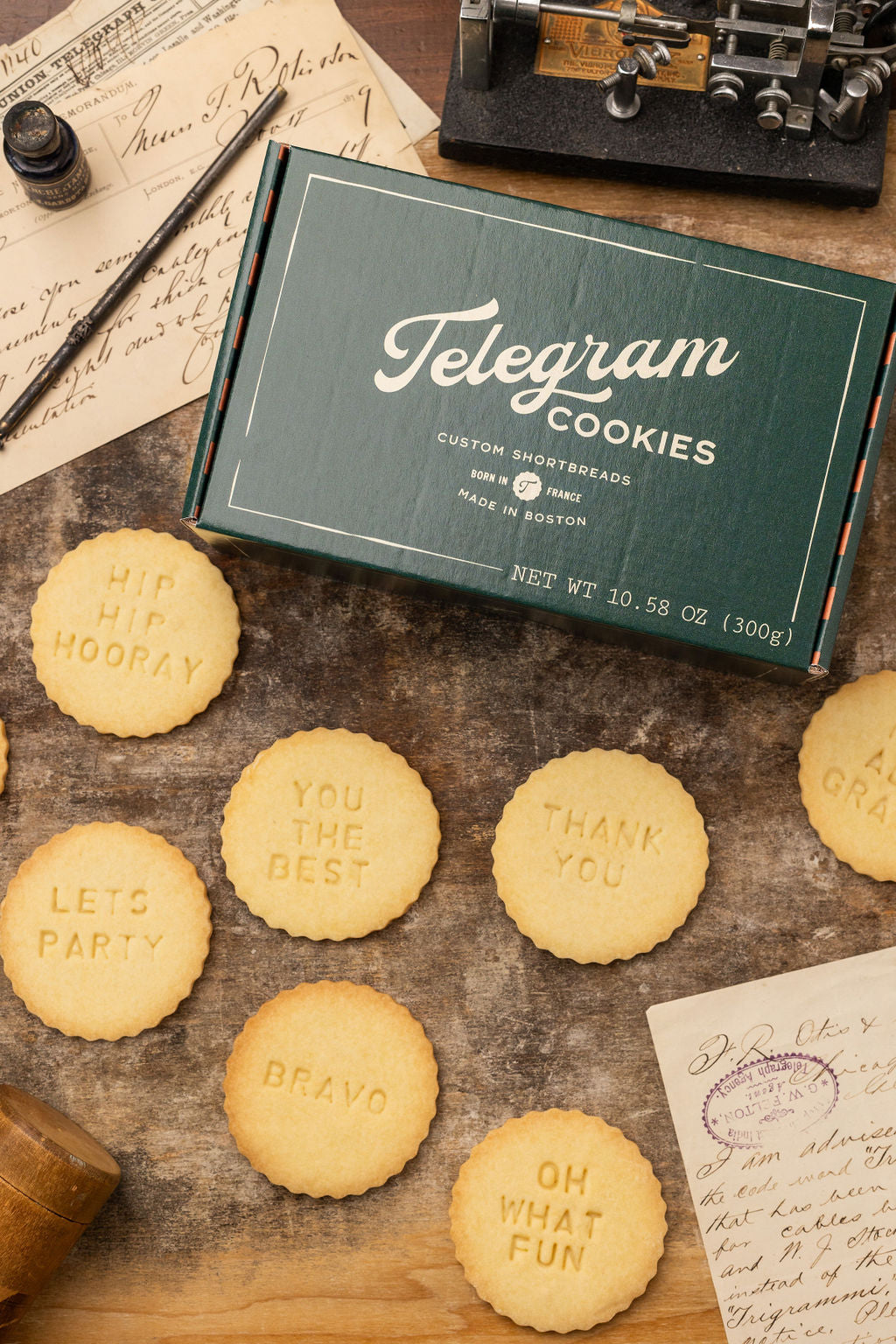 Custom Shortbread Cookies Gift Boxes
Natural Ingredients
Our French recipe uses only 3 ingredients: flour, salted butter, and sugar. No added artificial or synthetic ingredients.
Artisan Baking
We hand-stamp every message in our kitchen located in Boston, MA. We welcome custom orders for private events and corporate gifts.
Eco-friendly Packaging
We ship nationwide in recycled and compostable boxes printed with soy-based inks, 100% FSC certified, adhering to our climate commitment.
Shop Gift Boxes
Gift Boxes for Every Occasion
Custom Orders and Corporate Gifts
Custom Designs
If you require more than just the Latin alphabet, we can create 3D printed stamps for almost any design you can envision.
Quantity Discounts
We provide transparent, volume-based pricing for occasions like team building activities, holiday parties, or charitable events.
Customer Care
No outsourced customer support team. Instead, we have a committed owner who ensures a response within 24 hours, guaranteed.
Request a Quote
Testimonials
Athmeya (New York)
"I really love these cookies! They taste so simple but flavorful, with the texture of these butter biscuits I used to get at bakeries in India. I plan to cookie message myself if I have to, but if my friends and family are listening, please send me your holiday greetings via cookie. I will re-experience the gratitude for days (or at least hours)!"
Anna (Alaska)
"I am so grateful you were able to ship the cookies all the way to Alaska! They were delicious; we couldn't stop at just one! And, the personalized note was so cool. Thank you again!"
Natalie (Massachusetts)
"What a sweet surprise! Our cookies arrived intact and fresh with the exact wording I wanted. I wanted to surprise my husband for his birthday, so I suggested a few different short phrases -- some about his birthday, some quotes from his favorite shows and movies. He was delighted! And the cookies were super yummy too."
And many more…
Born in France, made in Boston
French Roots
I spent my childhood in Grenoble, France, devouring sablés. I now infuse buttery flavors into our shortbreads.
Baking Science
Being a software engineer, I iterated through our recipe 40 times, adjusting each ingredient a few grams at a time.
Perfect Gift
We've designed our gift boxes to be a tasty, thoughtful, and eco-friendly present for your loved ones.
Read Our Story